Click pictures to Download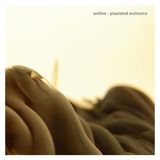 The long awaited full length album by Aniline is here. The duo from France presents Pixelated Orchestra. With 15 tracks spanning nearly an hour, it's definitely an album to get your mind into. Your ears will thank you.
CDs start shipping on or around September 12 and are available in limited quantities.
Information
Released: August 30, 2010
Catalogue: ULR004
Price: $10/$12
Formats: Digital & CD
Tracks: 15
Total Time: 58:30
The Lyon-Poitiers, France-based producers' melodic-electronica sound is straight out of the classic Warp songbook with the recording's fifteen tracks offering updated riffs on early Aphex Twin, Squarepusher, and Plaid. The style is familiar—pretty analog synth melodies, jittery breakbeats, chopped vocals, occasional injections of acid gobble and mayhem of one kind or another—but the boys nevertheless bring a goodly amount of energy and enthusiasm to their material…
French producers Alex and Flo definitely pack it into their debut album scoping the terrain of pristine ambience and hyperactivity once populated only by the likes of Aphex Twin. It is how after only a decade or so this album could lay claim to being a polished and contemporary reworking of a classic mode.
It is a very rare thing for me to find electronic music that I can really praise , as I find the net is over saturated with a lot of half-assed ideas masquerading as music… It is when you listen to an album like "Pixelated Orchestra" that you realize that music isn't something that just anyone can do. It takes imagination, and it takes the ability to dig deep within and visualize the end result before you've even begun, knowing that by the end you'll have created something that has never existed before.
We're proud to present our fifth (technical) release, a special promotional album by Aniline! This fantastic EP contains three original tracks and three remixes by Mrs Jynx, Life In A Box and Phasen.
Information
Released: March 4, 2010
Catalogue: ULS002
Price: Free
Formats: Digital
Tracks: 6
Total Time: 31:52